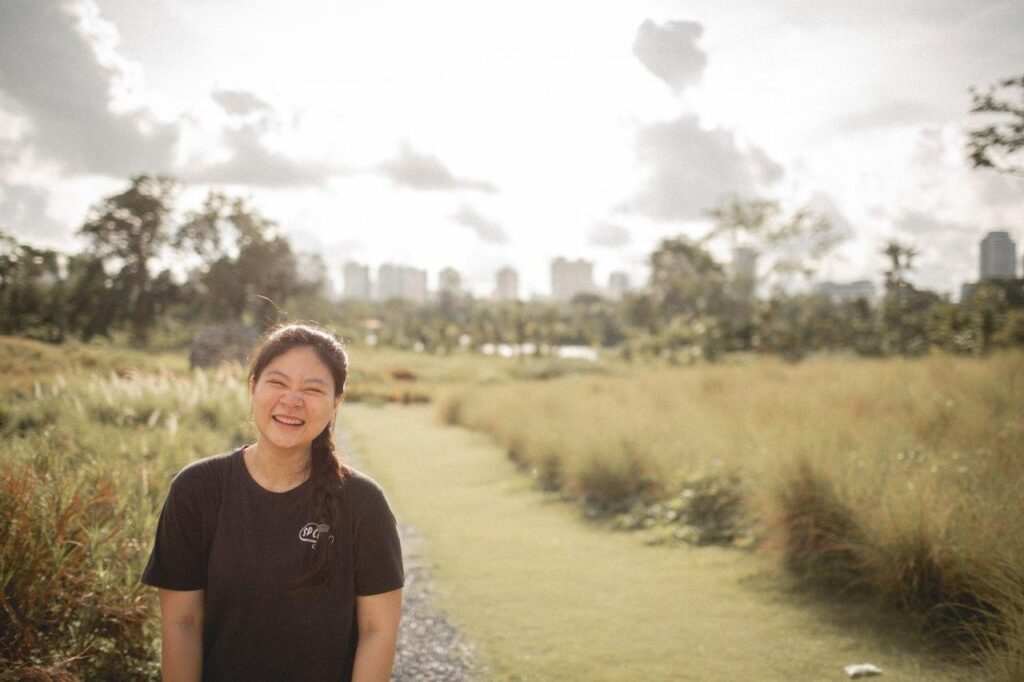 CRYSTAL SEOW
Crystal is a bookworm who loves reading research papers and filming videos of her rat-dog. She is currently finishing up her Diploma in Nutrition, Health and Wellness and is looking to study further. As a strength athlete, Crystal is new to the scene and has been competing since 2019. Notably, she led Singapore Polytechnic Strength Athletics as Vice-President from 2019 to 2020.
Hello everyone! I am Crystal, a third-year student in Singapore Polytechnic. I'm currently pursuing a Diploma in Nutrition, Health and Wellness, and I was the former Vice President of SP Strength Athletics (SPSA). Being relatively new to the powerlifting scene, I was initially apprehensive when ENSŌ approached me to share my story. However, I am writing this in hopes that it will encourage new powerlifters to take a leap of faith and take on leadership positions.
Formerly known as SP Gym Club and SP Strongman, SPSA started out as a club run by a coach who did strongman yet was an avid powerlifter. At that time, the gym wasn't well equipped with platforms, weights or squat racks and were mostly equipment that have been passed down from the older SP gym. Our strongman equipment was given to us by our previous coach. Pre-COVID, Training was held twice weekly at our CCA's gym. It was less structured with people coming and going at their own pace. With up to three different CCAs at our venue, it can get really chaotic due to overcrowding. The club EXCO would delegate and set up all the equipment prior to the arrival of our freshies for a more efficient training session. At the end of each training session, everyone would pack up, wipe down and go for meals together.
Truth be told, when I first stepped into the gym in my first year, my goal was to achieve just ONE push up. While trying to achieve that goal, my friend introduced me to SPSA and that marked the beginning of my powerlifting journey. Initially, I held some prejudice against powerlifters and thought they were people who listened to heavy metal and obnoxiously slammed weights while aggressively repping their sets. Looking back, my first time in the gym was extremely intimidating. There were hardly any females and even if there were, they would be on the treadmills. Considering that I had no knowledge of what exercises I could do, I found myself keeping away from the weights.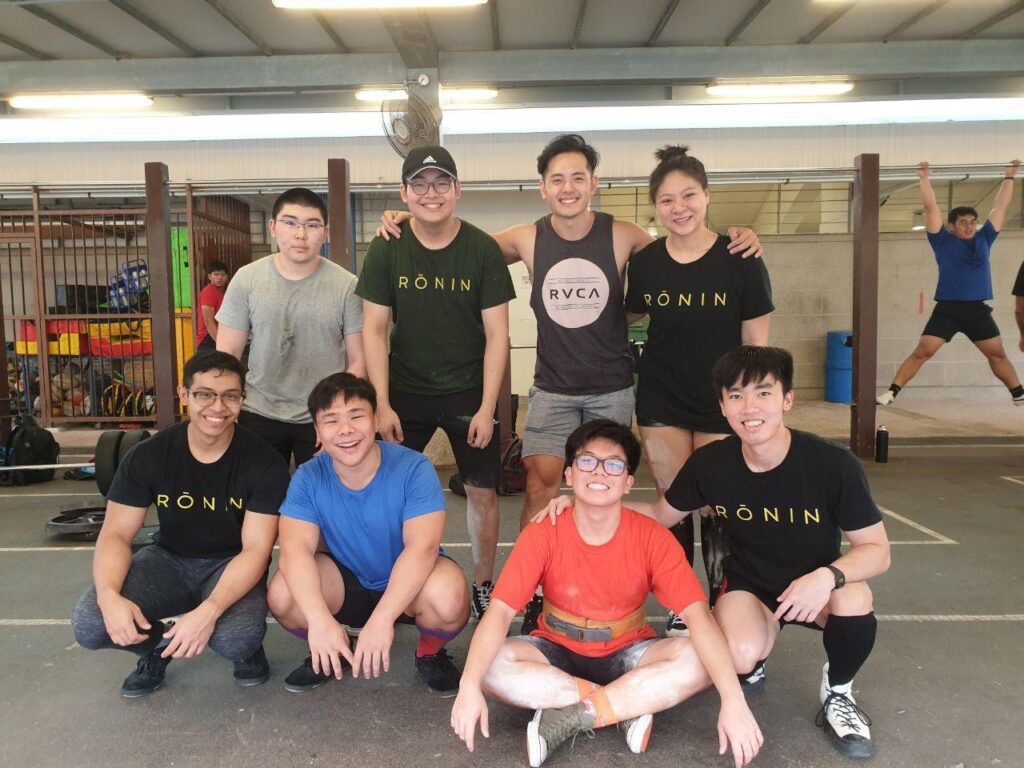 Prepping for our first competition, SPA'19 Championships, with our team coach, Mahavira Sng
Despite being a solo sport, the community built around it was pivotal. I count myself fortunate to be able to experience the camaraderie of the seniors. Intimidating at first, Mahavira and the seniors were my first point of contact in the CCA. Be it life lessons, lifting techniques and random talks, I learned so much from this bunch of people who never failed to spice up a training session. Beyond the walls of our club, we would also organise friendly competitions (eg. SP-NYP Strongman competition) with other schools and organisations to build our relationships and create goals for newer members to work towards. Additionally, combined training sessions with other CCAs such as Canoe Sprint and Basketball allowed for us to spread awareness, learn skills and share knowledge that fell outside of strength sports.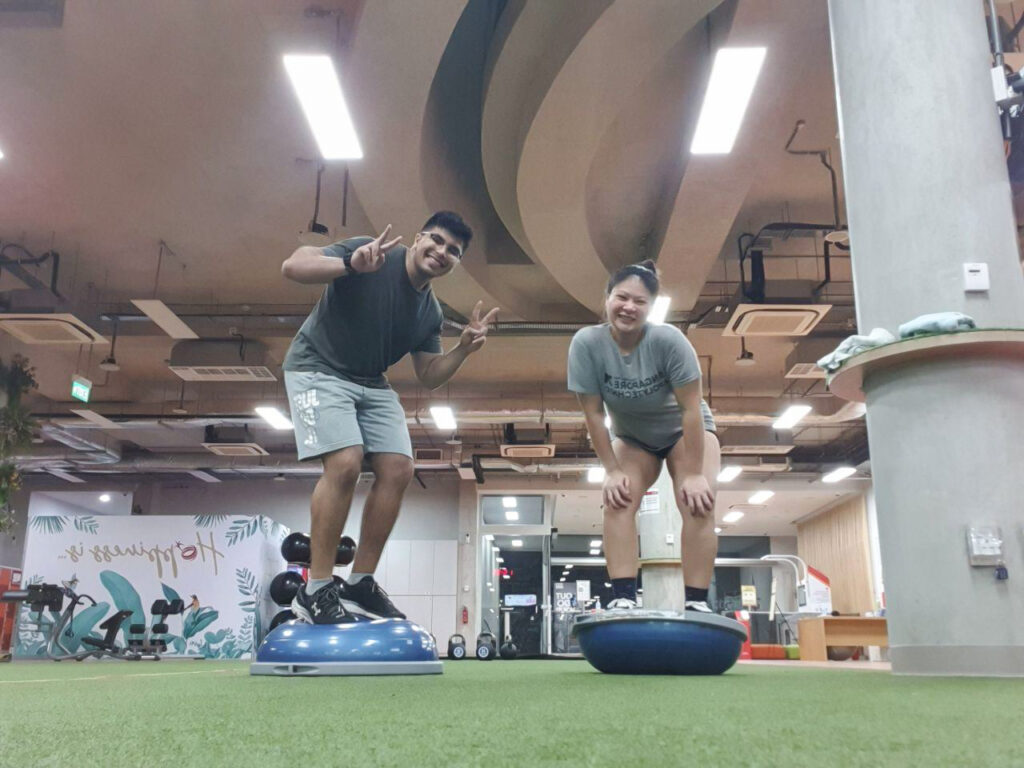 Reconnecting with an alumni, Roderick, post Circuit Breaker
To be frank, it wasn't easy being in a CCA with a broad male demographic with 0.00001% being women. My motivation stems from training and learning from my friend, Sarah. I met Sarah through SPSA and she introduced me to powerlifting. She has helped me selflessly since and played a pivotal role in my journey. We would talk and reflect on each training session together and discuss what could have been better. For me, it was helpful to have this outlet to sort my thoughts better and to have someone hold me accountable. I really look up to her for her resilience and passion for the sport and it wasn't easy being the only two females in the CCA. Surprisingly, both of us made it as EXCOs of SPSA. Sarah was an awesome Head of Social Media, but unfortunately, she had to take a break from training and I was left to train solo.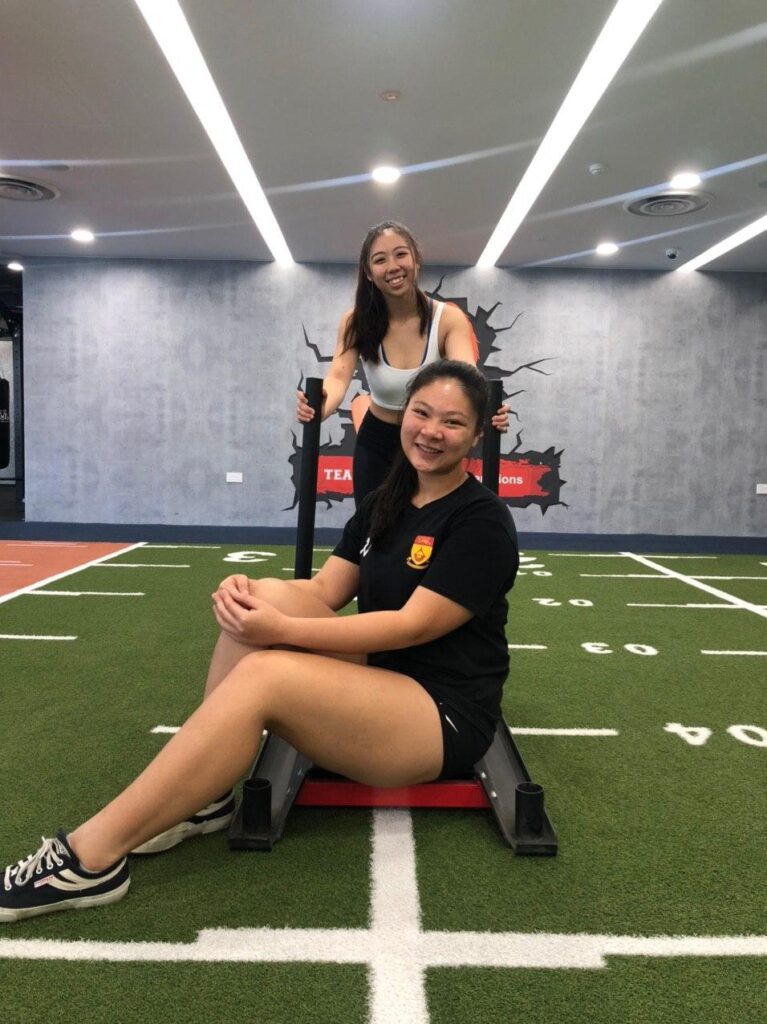 While Sarah was in charge of social media, I was given the honour of being Vice President. I wanted to uphold an inclusive and welcoming community for everyone, regardless of experience and gender. Although it could be difficult at times, I enjoyed introducing resistance training to my female friends as I wanted to remove the stigma of "girls shouldn't touch weights or they will get bulky".
Was it easy being the only female that attended regular training? No. I'm a firm believer in training with people of similar physical prowess to propel my performance. In fact, that was the whole point of the CCA. But without a female companion, it defeated the purpose of joining the club. It was hard feeling like a minority in the CCA, however I am thankful for the seniors not giving preferential treatment due to my gender. They constantly checked on me to ensure that I was not left out, alone and was doing well. It was an inclusive community that constantly spurred me on.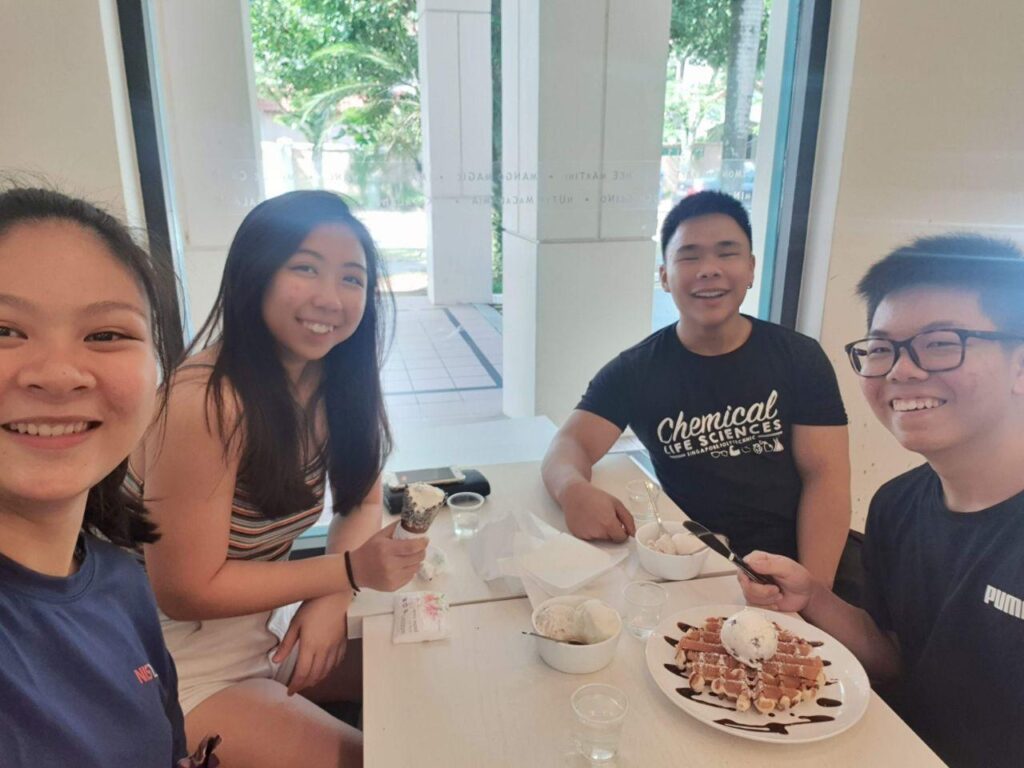 As the Vice President, it initially felt like I had no power and lacked the respect from my members and the public. It seemed that my gender played a pivotal role in how I was treated. There was a preconceived notion that there were certain feats of strength that were beyond my capabilities due to my gender. For instance, random strangers would challenge me to flip the 200kg tyre during the SP Open House as they believed that a woman couldn't do it since they couldn't too, or people doubting that I was really the Vice President. The discrimination was discouraging, but I choose to believe that I was selected as the Vice President due to my commitment, consistency and passion for the CCA.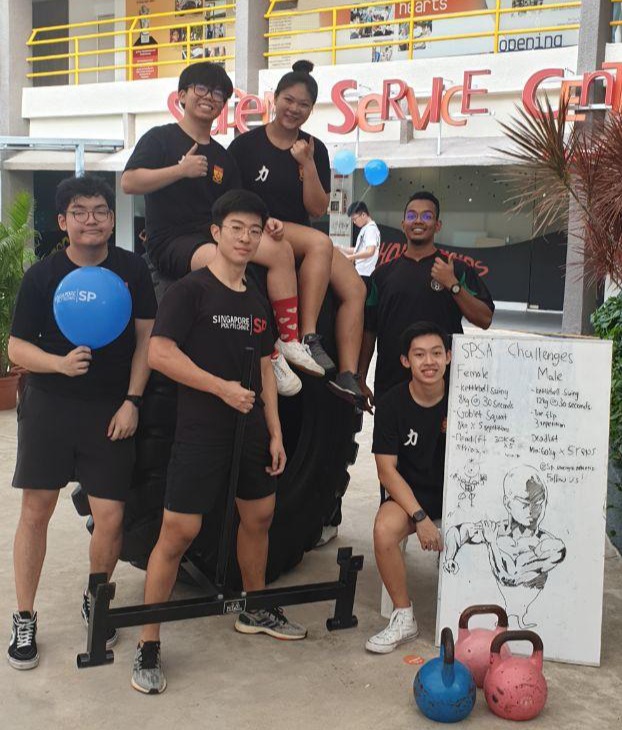 Every generation has its own share of issues and challenges, and correspondingly, their own set of solutions. Implementing such solutions was difficult as it meant changing the culture, shifting people out of the beliefs and systems that they are comfortable in. I had a lot of disagreements with the EXCO as some goals weren't realistic, but I had to fight for my principles, vision and justify my stand. It was understandable that it was received with minute support and positive affirmation. At times, unhappiness arose between groups within the club and I found myself mediating often just to please each side. Things changed quickly over time and the club lost the support from seniors and alumni due to new rules being implemented – literally, as the alumni weren't allowed to use SPSA's gym anymore.
Recounting my first event organised as the Vice President of SPSA, I didn't know what I was doing as I was relatively new to the sport, and hence looked up to people who were more experienced. It was difficult organising and ensuring that an event runs smoothly – setting up at 7am and leaving at 11pm while dealing with severe hip pain and popping painkillers by the hour. Additionally, it was tough managing the CCA as certain EXCO members were unresponsive due to various personal and work related reasons such as internships. Things took a turn for the worse when we planned the event with a third party while having a middleman who was uncooperative with running a successful event. It was frustrating as tension arose through all the miscommunication. However, what kept me going was for the event to be successful and for the competitors to have a great competition. I knew that it was a first strongman competition for many of them and I wanted them to have a positive impression of this field of sport. Instead of being upset, I focused on running the event to the best of my abilities and giving the athletes the best experience we could provide.
From a CCA that started off with strongman but progressively switched to powerlifting, it was hard to preserve the strongman aspect. Training was structured increasingly towards regular PT sessions and members weren't as open to trying strongman. Though we tried incorporating strongman into their sessions, it was hardly appreciated. I wonder what it was that steered people away. A lack of inspiration? Disdain for the non-conventional gym equipment? Or simply a lack of interest or belief in the lengths a body can reach with strongman training?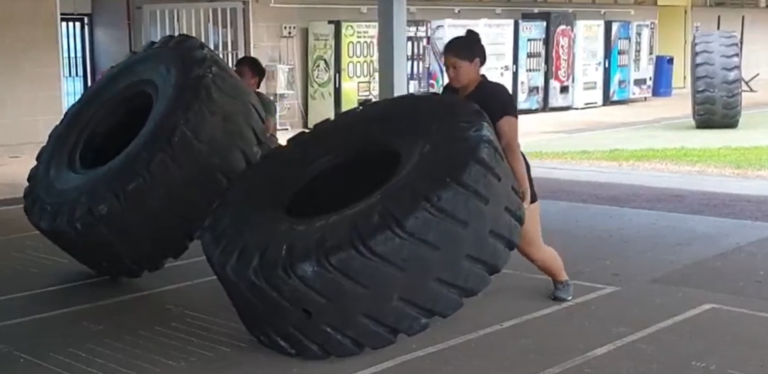 Random things we do after training – Tyre flip challenge
Reflecting back on my time in SPSA, I considered myself fortunate and enjoyed every moment of training. Not only was I growing stronger physically, I also used powerlifting as a coping mechanism for school and it helped me grow mentally as well. I gained knowledge and received motivation from our team coach, seniors and fellow CCA mates who were more experienced in powerlifting. I genuinely felt that I was in a community that enabled me to become a better person. At the end of the day, a CCA is just an out-of-class curriculum to take your mind off stressful situations and an environment to train with like-minded individuals with similar goals.
The best part of my journey at SPSA was probably being able to flip the 200kg tyre after countless attempts. Through ups and downs of being the Vice President, it was a turning point that made me realise that being a female in the scene is an empowerment and not a liability. It doesn't mean that I couldn't be a role model for guys because of my gender. It required foresight, resilience and endurance – I had to remind myself of long term commitments and not short term glories.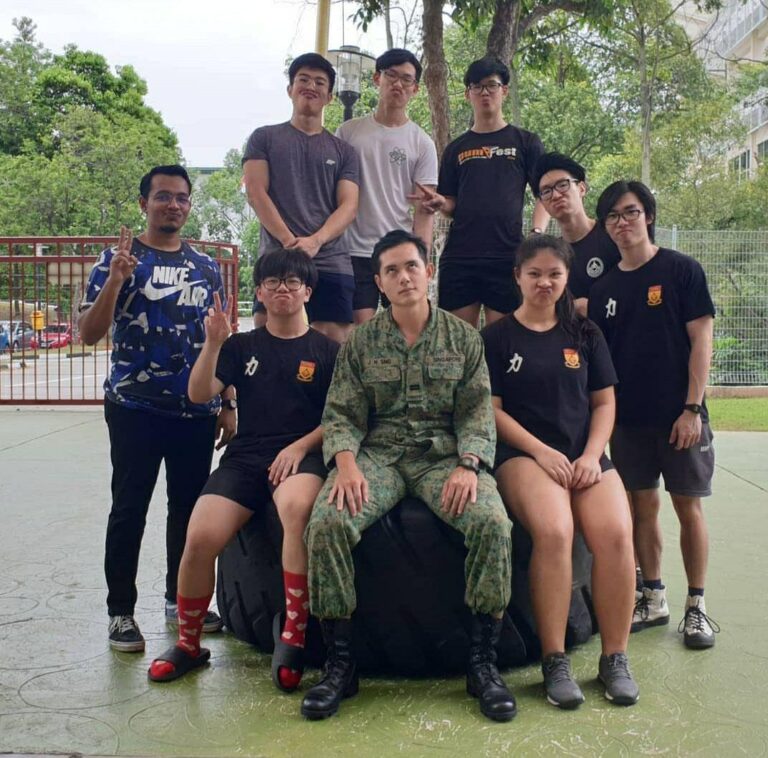 Mini SPSA family portrait with our coach!
To me, SPSA was like a safe house where I could train in peace without any judgement. Upon leaving SPSA due to CCA suspension, I was lost and didn't know how to approach training sessions in a recreational gym. However, I chose to see the positive side of things and found that I have become more social. I started approaching and mingling with those who felt foreign in the gym and share my knowledge with them. It helped shape my training perspective – I gained more confidence and had time to focus on my own training sessions.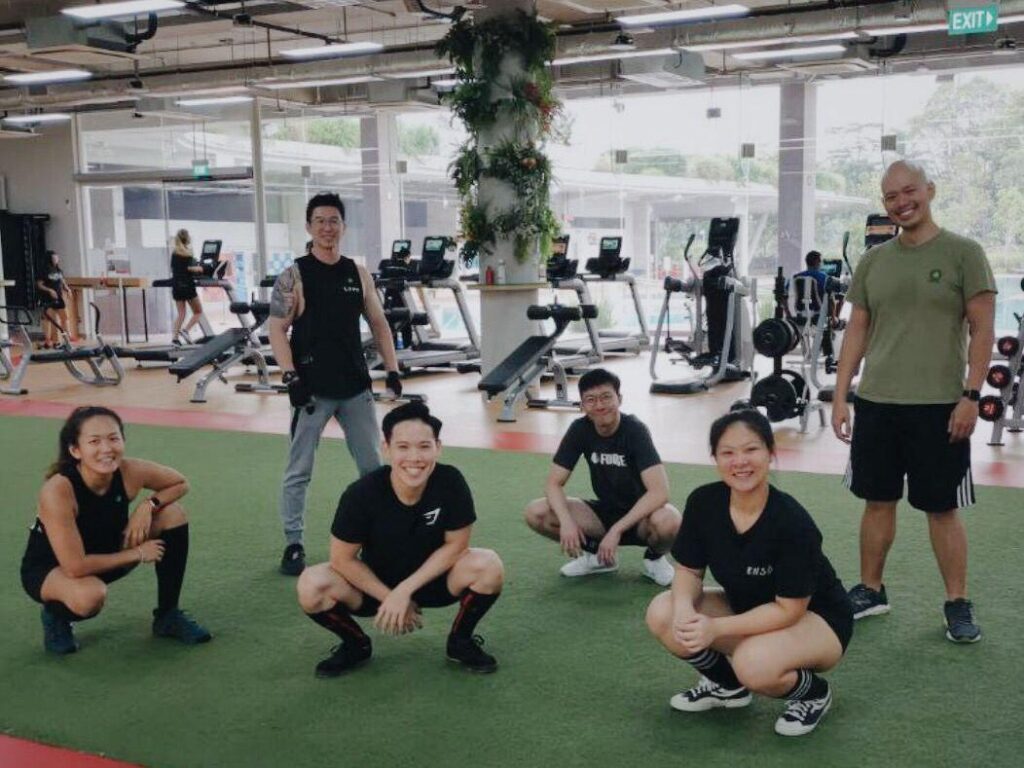 Bumped into this amazing bunch of people while training upon CCA suspension
What would I tell the past Crystal when she was struggling with stress, lack of sleep and lack of confidence? Well, I would man up (get it? Cause I'm a woman LOL), remind myself that I was appointed as a leader as people believed, trusted and saw my capabilities. Though many failures, hiccups and conflicts were faced, it was worth it. We would always have the greatest takeaway through hardships. But err… maybe include more sleep too.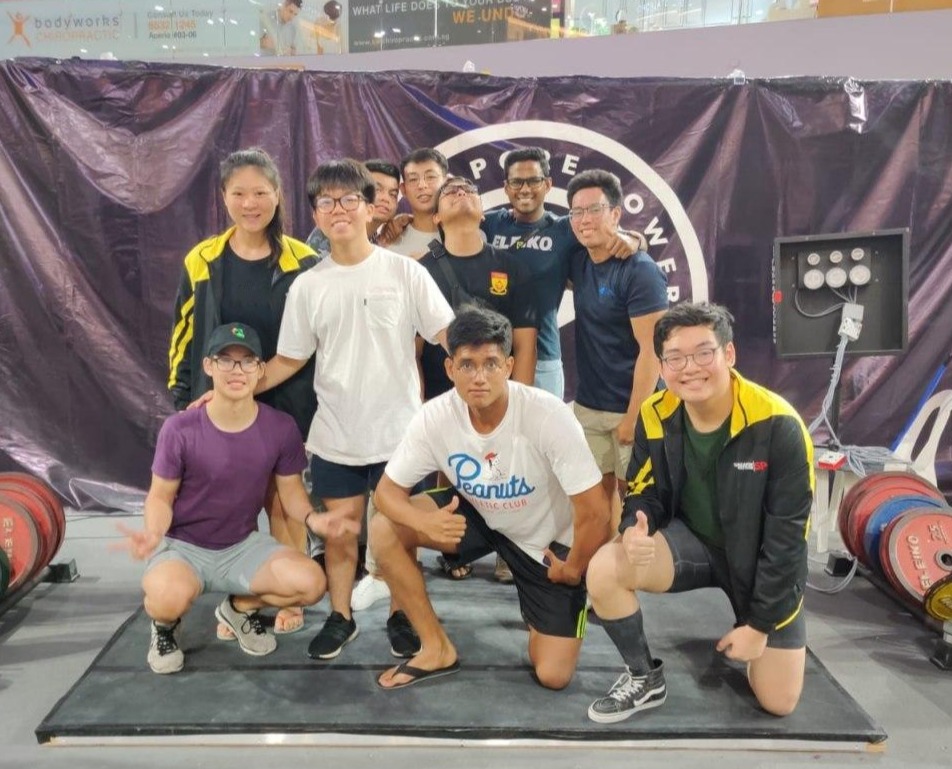 Group picture with some of our alumni
I am devoting the next section to the other strongman & powerlifting school clubs in Singapore, so that you may learn from my experiences.
Leadership is vital and members need to know who to look up to for direction and guidance. Being a leader can be mentally, emotionally and physically draining but persevere on and you will reap the benefits of your hard work! Members must have a strong sense of identity and belonging to a club; leaders can sit down with members to set both long and short term goals and celebrate victories of any scale with one another. With a club that is less structurally driven but more community-driven, it is important for every member to focus on building the team culture and to remain proactive in taking care of the club.
It is also important to cultivate a culture of acknowledgement, affirmation and apology. Building personal and authentic relationships is a good foundation for developing such a culture. Before you expect your members to share openly with one another, trust needs to be forged and that can only happen over time. So, take it from us and hang out with your team outside of training. Don't despise these small awkward beginnings as it will develop into something meaningful in time to come. Just give it time and be consistent in your efforts.
If you are a leader of a club, take some time to ask yourself:
"Why are you leading this club? What is important to you? What is your heart and vision for the people? Is it medals and trophies, friends and community, leadership and title or something else?"
If you are a member of a club, take some time to ask yourself:
"Why did you join? What does this club mean to you? Where do you see yourself in the club? What do you hope to achieve?"
It is important for us to be aware of why we do what we do, despite our positions. It is difficult for us to achieve something if we are not aware of our purpose of achieving it. Fix your eyes on your goals and grow. For me, it was a wild ride as Vice President and I always wondered why I stayed in SPSA though it was negatively impacting me. I found myself too attached to the CCA and I've always wanted the best for my members – that was probably the only reason why I was motivated to stay and fight. The seniors believed that I could improve their unfinished work and it would have been a waste if I squandered the opportunity and threw it down the drain. Thinking about how I could positively impact my members as well as identifying the positive parts of people kept me going when I felt like giving up. Nobody can guarantee that things will go as planned, but we should always look at it from a different perspective. It will get uncomfortable along the way, but that is when we have to lift (haha pun intended) one another up! You can't control how long an opportunity will last, so why not make the most out of it? Hardships are inevitable, but change your perspective and they will become opportunities to hone your skills. Stick with it – just like how your coach will yell :') – and jiayou!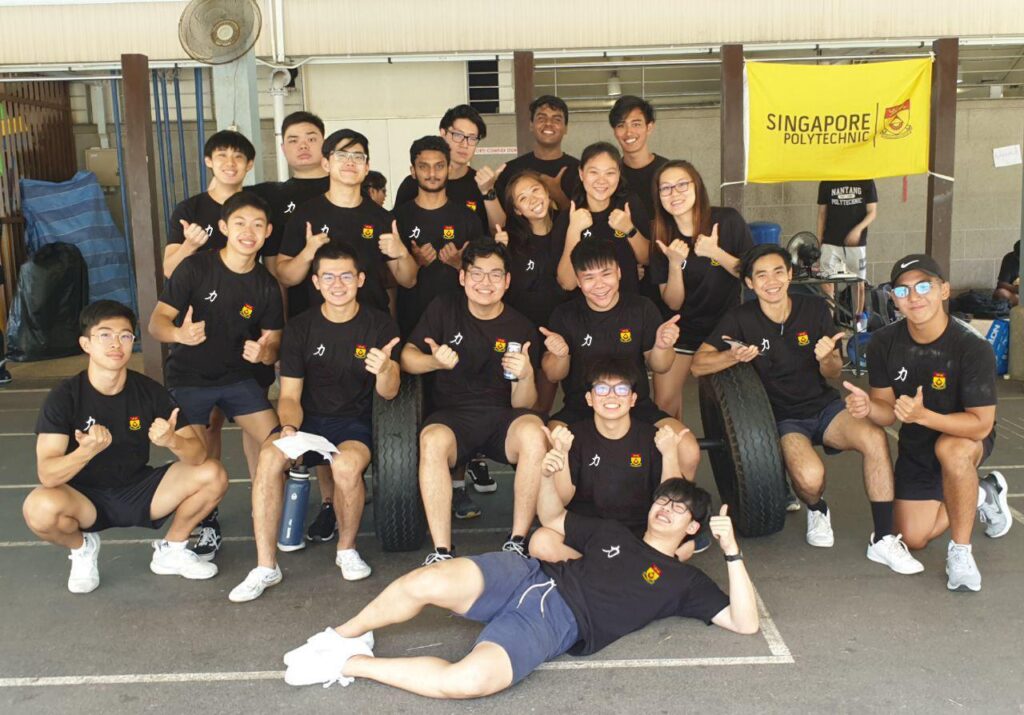 Group photo with AY19/20, thank you for being part of my journey & for the opportunity to lead y'all