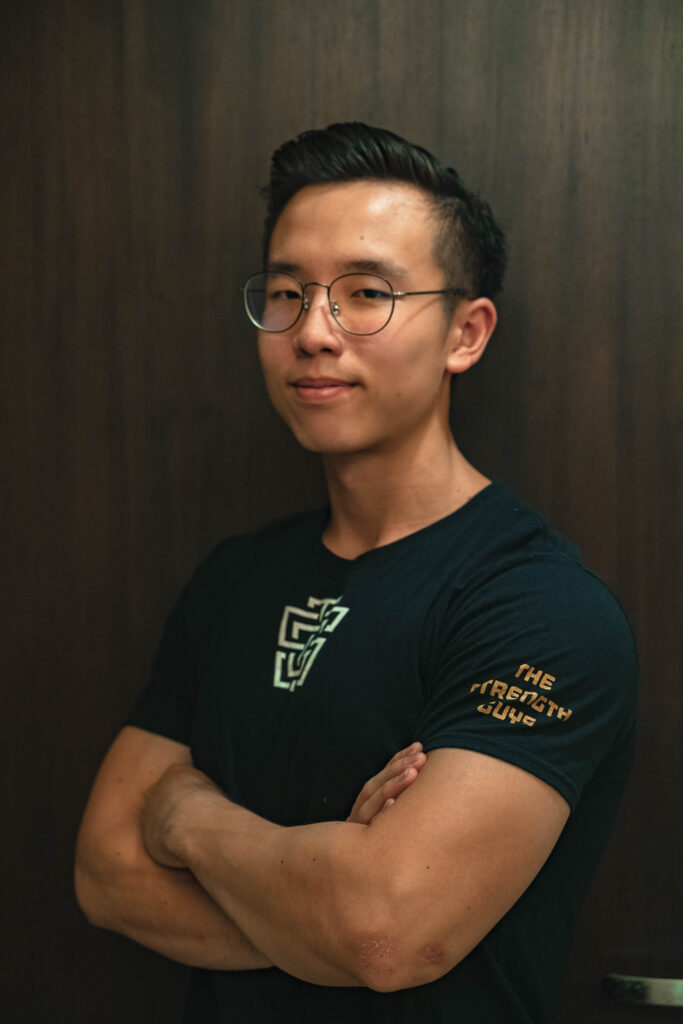 Jonathan Chua

Jonathan Chua is an anime lover, who enjoys analysing and reviewing research articles on athlete's performance in sports. Jonathan graduated with a Bachelor's degree in Sport & Exercise Science back in 2019. He was the co-founder of Prime Athleticus, and currently one of the coaches of The Strength Guys. Jonathan has been powerlifting since 2014 and slowly began his coaching journey shortly after.
Hello! You are probably here to read about my story of a nobody who enjoys the process of coaching turning into a powerlifting coach. You may have already read some bits and pieces that I have shared on my Instagram, so if you are here, I hope this story does not bore you.
Why did I start Powerlifting?
I did not know powerlifting back when I first stepped into the gym. All I wanted to do was improve my body composition and athletic abilities for sports performance, and rehab my left-knee which had undergone meniscus surgery. I started training with my friend, Faarisi, who taught me the principle of periodisation, progressive overload and how to manage fatigue level. He was ahead of his time, and I was intrigued by his knowledge. Though I just started lifting, under his experience, my strength and muscular adaptation improved significantly. That is also the same time he shared with me what powerlifting was and encouraged me to pick it up. And that was when my powerlifting journey began.
Over time, on weekends, I also started coaching my close friends for free as I found pleasure in problem-solving training methodology, enhancing performance and increasing my knowledge of individual differences. The friends are those that I have made in Toa Payoh Safra when I was interning there. I helped them with their training and nutrition to help them have a complete body recomposition. I simply experimented with a simple progression scheme with 3 accumulated weeks and 1 down week, pushing their training hard while increasing their daily caloric intake. Coaching was fun and fulfilling! And that was when I slowly started to accumulate my coaching experience and knowledge.
My first competition – SPO'14
After training for a little while, I was persuaded. I went ALL IN for it. I signed up for my first powerlifting meet (SPO'14), and started researching online on "How I can improve Strength Quickly". It was then that I came across the pioneer of powerlifting coaches (at the time); De Novo, The Strength Guys, The Strength Athlete and 3D Muscle Journey. The one method that caught my attention was Daily Undulating Periodisation or DUP. Right after, I started crafting my own training with no experience at all and no knowledge of the technique of the SBD competition lifts. Because of that, I unfortunately ended up with a shoulder injury from poor technique and a broken left pinky finger from breaking a fall in a basketball competition, six weeks out. I substituted my bench press with a machine press while having a modified grip to ensure that my pinky does not get loaded and my shoulder pains get eased up. I had to use hook grip exclusively to deadlift as that was the only way I could hold on to the bar. Thankfully I managed to complete my first meet "unharmed" and managed to snag a gold cookie.
The high from winning made me obsessed with powerlifting and led me down a slippery slope. Right after the meet, I set my eyes on SPO'15 and resumed training aggressively. No Pain, No Gain, right? That was when the greed of success took over. Without any regard, I forced myself through a deadlift training session which resulted in a pop in my lower back and caused me to experience immense pain. But being young, dumb and meathead, that did not stop me from squatting for the next eight weeks, which only made the injury worse. No surprise there. The injury prevented me from training my lower body for six months.
Since I couldn't train properly for SPO'15, I shifted my goals to SPI'15 as I would like to compete one last time before enlisting into the two years of mandatory service. Once the pain mostly dissipated, I started doing Front Squat and Romanian Deadlift specifically for my lower body as these movements did not aggravate the pain. It helped me get into the groove of training again. Until about 20 weeks out from SPI'15, I was finally able to perform my usual training routine.
Onward to SPI'15, I went in with a narrow mindset to attempt the numbers that I wanted to hit and hopefully win it yet again. But I was unsuccessful and came up short. It was a bittersweet ending. While I managed to compete one more time before enlisting on the next day, I did not get the result that I wanted. But it was on to the next phase of life.
Army and International Competitions
My first international competition – Asians Powerlifting Championship'17
During enlistment, I lost all my drive to exercise as many guys would. I did not start lifting again until I was posted to a unit that allowed me to book out daily. On the bright side, the lack of lifting forced me to do a tough reset and it was a good reflection for me – Enjoy the process rather than the outcome. Day in and out through my NS life, I booked out and started training by 7 pm and ended my training at 9-10 pm and only reached home by 11 pm. It was tiring but it was well worth it because I get to do the thing I love.
The fruit of my labour was shown in SPO'17 when I managed to win, after a close call with the deadlift (almost bombed out lol). SPO'17 was the highlight of four of my athletes as each of them attained podium finishes as well. It was during this time, when I hired a coach for myself to learn more about the different styles of coaching and training. My decision for hiring a coach was to take any mental stress away from writing my own training, and to have an extra pair of eyes watching over my technique. After that, there was a lot of high in my training. I was happy to witness promising results from block to block leading up to Asians'17. I managed to snag my first ever international gold medal! After snagging the win I flew right back on the same night to handle my guy, Daniel, back in Singapore for the Oceania Championship'17. It was tough handling with minimal sleep but I had to do it. He finished the meet off with a gold medal and we wrapped up 2017 with a blast by meeting Geno for the first time there.
After that weekend, I set my eyes on World's. So as usual, it was back to work with a lot of volume to build up my work capacity. Unfortunately, things took a sudden twist when news popped up that I have to requalify for Worlds. I immediately updated my coach and training had to take a big turn. The sudden increment of intensity gave me chronic knee soreness during the prep into SPO'18 to qualify for World's. 3 days out from the meet, I experienced an unfortunate incident. I picked up a piece of tissue off the floor, which caused my right knee to pop. Talk about a series of unfortunate events LOL. The pain made me unable to perform a bodyweight squat. I had to skip my last day of training going into the meet.
On meet day, it was all jitters and anxiety. "How am I going to squat or deadlift?", "How can I qualify in this state?". With the goal in mind coming into focus, adrenaline took over while warming up. I took a gamble on the squat selection to get as many kilos as possible out of my knee, which worked out fine at that point. But right after the squat, the pain got worse and that was the end for me. I lost the meet to a very strong friend, Ashton who had only been powerlifting for a year. The feeling sucked big time especially for me who had been training longer and had more "experience". I broke down right after, not knowing the fact that I was nominated as well.
World's Classic Championship'18 with my teammates at Calgary, Canada
With World's still in place, it was back to work. Training volume was ramped back up to prepare for World's. With no surprise, this made my knee soreness worse than it should have been, and there were a lot of instances when I had to train through the pain with pain killers. While those helped me push through my training, it was simply delaying me from dealing with the issue directly. Not to mention it burned through my wallet as those caused a bomb over time! I was taking up to 6 painkillers per session just to get through the prep.
Come Worlds'18 in June, it was a whole another experience compared to local meets, or even Asians'17. You can have up to 3 coaches in the warm-up room. From that alone, you can imagine how many people that were there in the warm-up room. Warm-ups were rushed and the cold weather got the better of me. Right after my third squat, my right hip cramped up and I cannot exert any force to it. I can still remember the pain walking back to the warm-up area and crashing down on the floor, trying to tolerate the pain to keep going in the meet. This affected how much I could arch when warming up for bench press after and extending my hip to lock out the deadlifts after. Unfortunately, I had to finish the meet with a poor performance again. That aside, I did have many learning takeaways from this international meet – adapting to a new time zone, cutting weight effectively and giving your all despite the pain. With every "bad" experience, comes growth.
The Strength Guys - From Athlete to Coach
My athletes and I at SPA'18, SPI'18, and SPI'19
Post-Worlds, I decided to stop the coaching due to personal reasons and engage with The Strength Guys, who are my current coaches. That was also when I started coaching more local lifters and guiding them with all the experience I had, both the good and the bad. Those gave me a chance to enhance what I can offer to them and this increased my client roster.
Leading into SPI'18, it was the first time I had to compete and handle in the same meet. That was a new experience for me and to be very honest, I think I did not do a great job at juggling both tasks because all I wanted to do was redeem myself. In the end, I still came out short and lost yet again. Matthew was the stronger man that day and he deserved it. This was also my last meet as a junior lifter and to most, it is the most "important" period. The feeling of it sucked big time but with my friends around, I was able to overcome my emotions and looked past it. It was also the only meet that I did not break down post-meet after losing and it has shown my growth as a lifter and as a person.
In late August 2018, I reached out to my current coaches if they were looking for an intern as I just started my undergraduate studies, and started working at Temasek Polytechnic. It was an avenue for me to further enhance what I can provide to my current clients. It was also the perfect time as they needed extra help with major upcoming projects such as MyStrengthBook, coaching the Ohio State University and managing client's scheduling for Jason. They gave me the opportunity, and I took it!
However, things started taking a big turn downhill a few months in. Juggling between Temasek Polytechnic, undergraduate studies, The Strength Guys and training – I had my plate full. I always wonder if time was ever enough, and I neglected a lot of things to fit in everything. On weekdays, I did not reach home till 11 pm and on Saturday, it was my only "rest" day without any distraction and Sunday it was back to work with clients check-in. As time passed, training took a hit as I did not have sufficient time to train, especially during the competition period for Temasek Polytechnic (POL-ITE, IVP). So 2019 was a quiet year for me as training was not a priority. That was the point where client success started to come first for me. I was happy to have wrapped up 2019 with a ton of client success – University World Cup with 2 first-place finishes and a 1st runner up. They were my first group of INTERNATIONAL titles that I have coached.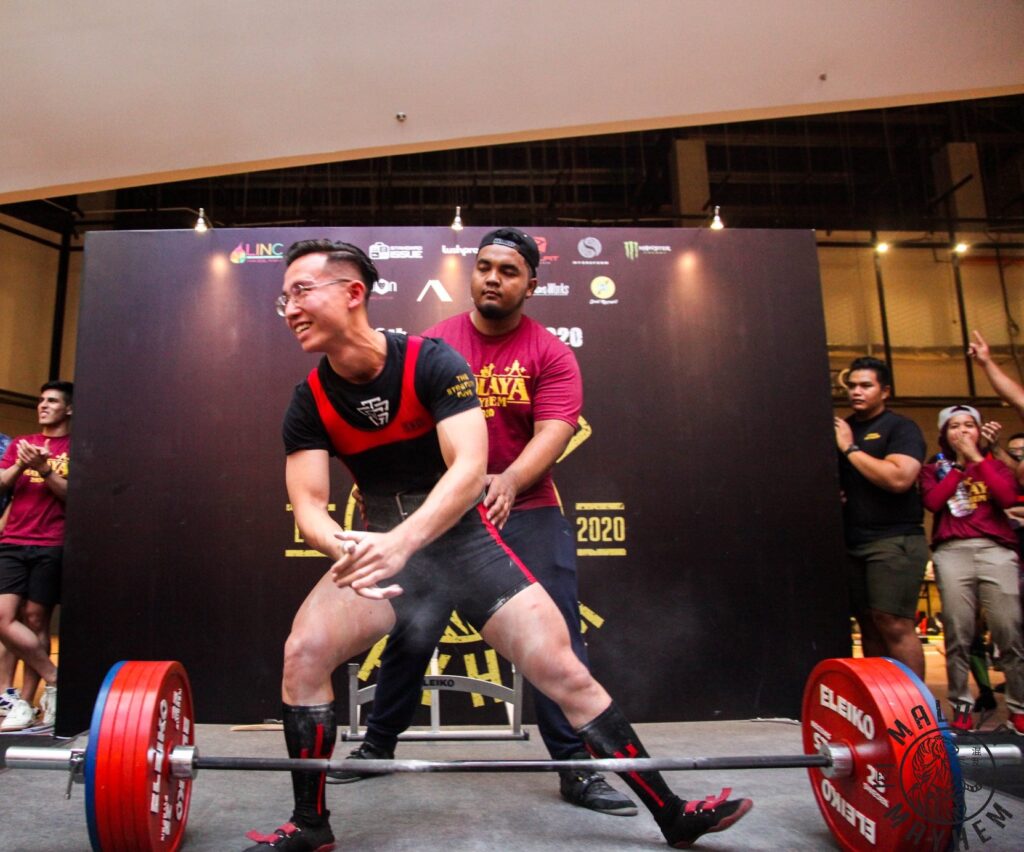 Flash forward to now – 2020. I have gained a myriad of experience through my years as an athlete and a coach. Coaching different individuals of different ages and backgrounds exposed me to constantly evolving my communication skills. As they always say, one man's gold may be another man's poison. Because without client success, goals met or enriching their knowledge on training and nutrition, am I really a good coach?
I also manage to fit a competition into 2020 which has shown my growth over the years as an athlete. It may come as a surprise to a lot of people as I was extremely quiet in my competition preparation, but it was a meet that I did not plan for. I decided to join the competition with a group of friends who had invited me to go lift with them and I definitely enjoyed that meet. You can just look at all my lifts with the smile at the end.

I may not be the most gifted, but
consistency
over the years have shown over time. Perhaps that is the "secret" to making the best gains. Also for kids out there who have a mental block, just know that
yesterday's 'wow' quickly becomes today's 'ordinary'
! Just keep striving and increase your standards 🙂
Lastly before I wrap this long-winded story up, for those who made it this far, keep striving to improve Singapore's powerlifting standard. The younger generation will be the future of this sport. For those who are stuck at home fret not, I am on the same boat. Set small goals to meet and continue improving your goals once it is checked off the list.
Editor's Note: Some notable coaching success that Jonathan has achieved: SPO'15: Champion placing – (U66) Weane Ang
SPI'15: 1st runner up placing – (U93) Kelvan Ho
SPA'16: 1st runner up placing – (U100) Claudius Keng
SPO'17: Champion placings – (U66) Liew Jian Bin and (U59) Daniel Tan, and 2nd runner up placings – (U83) Jeremy Thor and (U66kg) Kevin Yeo
SPA'17: Champion placing – (U82.5) Lim Liang En and 1st runner up – (U75) Brandon Hong
SPI'17: 1st runner up placing – (U74) Brandon Hong
Oceania'17: Champion placing – (U59) Daniel Tan
SPO'18: Champion placing – (U66) Wei Chaai and (U59) Daniel Tan
SPA'18: Champion placing – (U52) Alice Yeap
World Classic Powerlifting Championship'18 (Canada): 4th Placing – (U59) Daniel Tan
SPI'18: Champion placing – (U66) Wei Chaai
Asians Powerlifting Classic'18 (Mongolia): 1st runner up – (U66) Wei Chaai
SPO'19: Champion placing – (U74) Jerome Tan
Collegiate Nationals'19 (USA): Champion placings – (U47kg) Kerry Stevens and (U84+) Heidi Lewis, and 1st runner up – (U63) Christianne Hazzard
SPI'19: Champion placings – (U63) Claudia Lee and (U66) Wei Chaai, and 1st runner up – (U66) Jerome Tan
SPA'19: Champion placing – (U56) Alice Yeap, and 1st runner up – (U90) Lim Liang En
University World Cup'19 (Estonia): Best Overall Female Lifter and Best Female Team (OSU)
University World Cup'19 (Estonia): Champion placing – (U63) Christiane Hazzard and (U84+) Heidi Lewis, and 1st runner up – (U47) Kerry Stevens
Raw Nationals'19 (USA): Champion placing – (U63) Jordanne Panton and (U84+) Heidi Lewis, and 1st runner up – (U63) Christianne Hazzard
Military Nationals'20 (USA): Champion placing and Best Overall Male Lifter – (U74) Alex Canton